How it Works
ARSIntel offers Audience Response Systems (ARS) for organizations looking to add interactivity and sincere audience insight to meetings or training sessions. Our technology is simple to use, cost effective, and guarantees productive results. Whether you're looking for equipment rentals or a complete ARS event conducted by ARSIntel, we have an option that will fit your budget and meet your goals.
By using audience response systems, everyone takes part in the voting. You set the option of complete anonymity or participant identification if needed for company objectives or continuing education certification. When consensus is gained, there is a better group buy-in because the participants witnessed the progression to reach that consensus. They see that their vote did count!
After the meeting, you are presented with graphical results that truly reflect audience opinion in a form that provides you with data that can be quickly analyzed and input into company documents. You do not have to spend valuable resources tabulating results and building useable graphs, we complete those steps for your company. Or if you require, we can give you results immediately after the polling, even if the presentation is still in progress. This will enable you to revise upcoming presentations as needed by the audience input.
---
What We Offer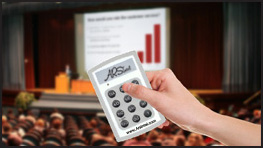 Anonymous Polling
There are many people who do not want to publicly share their opinions. Our ARS system also allows audience members to express their opinion anonymously. Many of our clients have discovered that this is a perfect tool for voting on sensitive issues, such as elections of board members, decision making, and general topics where identification isn't necessary. Anonymity ensures honesty.
Participant List Polling
However, our audience response keypads have a unique ID which allows you to cross-reference each participant's answers. This feature allows you to see how each member of your organization and attendee of your convention voted. This aspect is popular with Meeting Planners when it's time for event assessments and evaluations. In addition, this feature assists with certifying participation in the case of continuing education where involvement is required, or in the case of company objectives where response identification is necessary.
State of the Art Technology
ARS fully integrates with Microsoft PowerPoint using specialized software and handheld devices to develop an interactive session for presenters and participants. The software allows ARSIntel to instantly build charts and tables of responses to questions.
The plug and play system is fully portable and unobtrusively offers a green method for polling unlike any previous method offered. Never before could companies immediately tabulate audience responses and use those responses without delay for decision making and session improvement.
ARSIntel provides your company with all needed equipment and works with you to develop interactive questions that meet your goals and objectives and insures audience participation to unprecedented levels.
Going Green
Using our ARS system will save you costly resources like time-consuming paper event assessments, evaluations and ballot counting. One of the many benefits of using our ARS System is that your attendees will be more frank with their responses when it comes to evaluating your speaker's knowledge of the material and evaluating your speaker's presentation of the material. Our clients are happy to discover that by using audience response, attendees tend to be more honest in their assessments of the convention, meetings and events. The simplicity of the system allows participants to quickly complete any questions you need answered to continuously improve.
---
Why You Need It
No More Time Consuming Decision Making Process
With our instant access to polling results, your decisions can be made immediately during your live event. Our audience response polling software does the calculation instantly and accurately, in an easily understandable and useable format.
Audience Participation
University studies have shown that audiences become more involved, interested and attentive when speakers use interactive polling during their meetings. In addition, people retain information longer when they are actively participating in the presentation. The ARS system provides you with a method that gives you the opportunity to ensure your meetings accomplish your desired goals because your audience is engaged in the process.
Your Audience's Understanding
Using interactive technology during a presentation allows your speaker instant perspective into the audience's understanding of the materials being presented. By displaying the results immediately, your speakers can determine if they need to offer an alternative explanation of their presentation materials. If the audience fails to understand the information, your company fails to get a return on your investment. We offer the solution you require to reap the benefits of oral presentations.
Interactive Polling can offer a Fun Learning Environment
Interactive Polling Games during meetings are a great way to break up a session and get people to refocus on your meeting. ARS polling games are perfect for sales meetings, corporate training, and marketing your services and products. Participants will remember the information offered if the presentation is interesting and interactive.
To Vote, Poll or Survey
Put the power of interactivity into the hands of presenters and facilitators. Interactive technology is a powerful tool for improving meetings, training sessions, market research, self-assessments, and a variety of other applications where a higher level of input is required.
An add-in to Microsoft PowerPoint, our software harnesses the power of wireless keypads to help you receive real-time feedback from meeting or classroom participants. This dynamic combination of tools can improve participation, focus, learning, and decision making as it makes your PowerPoint presentations a truly interactive experience.
For example, you may suspect that your organization needs to change in a number of areas. The system can be used to identify the importance of change in each area, the best plan for change, and the support that a plan will have if this change is made.
On the other hand, you may have already defined a plan for change, and your objective may be to secure meeting participant support. During your presentation you can include questions that basically ask: "Do you understand our new plan? Do you agree with our new plan? Will you support us in the implementation of this plan?" It is important to use the system in a way that supports the objectives of your particular meeting. As with most presentations, the best way to begin planning is with a general outline. Then, you can develop specific questions.
Use Technology to Your Best Advantage
Today's technology-savvy audience requires presenters to use the tools available to insure that your company's vital information is retained and applied by the participants of your meetings and conventions. ARSIntel offers you the opportunity to insure your meetings' investment pays off.